Mikkel Haaning worked as a model for Le Management, and the agency had told him that he needed to lose a few pounds in order to get more modelling jobs.
Since Mikkel played handball on a regular basis, he also did workouts in the gym. Therefore, it was possible for Mikkel to do intense training sessions right from the beginning. Mikkel was extremely motivated and he followed all advice regarding training, diets and supplements.
Process and competences
Mikkel's program consisted of 12 sessions of personal training. Since Mikkel was a model, he wasn't supposed to gain that much muscle mass. However, even though the goal was to burn calories, we advised him to do heavy weightlifting. This had to do with the fact that weightlifting makes the body burn calories during and after a training because the muscles are broken down and need calories to rebuild themselves. In order to increase the muscle mass, it is necessary to consume more calories than you burn. Mikkel did this, and and therefore he lost fat without developing considerably more muscle mass.
Weightlifting also activates the central nervous system. This enables the body to use more of the muscle mass, making it possible to lift more kilos and thereby burning more calories (neural adaptation). Furthermore, weightlifting contributes to maintaining the right levels of testosterone, growth hormone and other hormones. These are quite important when it comes to losing fat and keeping and developing muscle mass.
Mikkel's weightlifting program focused on the big muscle groups, since exercises such as squats, dead lift and bench press require the greatest amount of energy. His cardio consisted mainly of high intensity interval training (HIIT).
Results
Mikkel went down from 90 to 78 kilos in just 3 months, and today Mikkel works full time as a model. This impressive transformation happened because Mikkel had the right tools to work with from the beginning, and because he dedicated himself one hundred percent during the process. This meant that he was fully committed to the daily training sessions (sometimes he trained twice a day), and that he consistently followed his diet which meant not drinking alcohol or eating sugar.
Before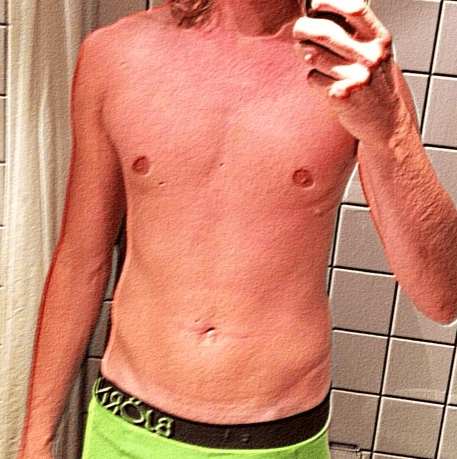 After